Thanksgiving is upon us tomorrow. Anyone that knows me personally, knows that I absolutely, totally LOVE, LOVE, LOVE the holidays, especially Christmas. However, I read that the average American gains 3-5 lbs over the holiday season.  You're probably expecting to read a blog all about "fit tips" or how you should do jumping jacks at the dinner table in between dinner and dessert. Or how you should sit your entire family down in the living room and tell them that "health is important to you" and that's why you just can't eat the cheesecake with them this year. You might have also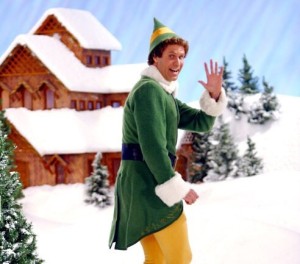 expected to read some recipes for Thanksgiving that call for "low fat, low carb or gluten free" ingredients. Well, you're not going to find that here. Why, because I'm sentimental. This is the time of year that I get in touch with my inner Elf and try to stick to the four main food groups; candy, candy canes, candy corn and syrup. (that was a joke) On a somewhat serious note, my son loves my hot chocolate. I make it on the stove and it really is awesome deliciousness. Not even remotely healthy but so yummy. We top it off with marshmallows whipped creme, chocolate drizzle and a candy cane. Pretty much as sugary and fattening as you can make hot chocolate. That's how we like it. Then we lay on the couch and put on our favorite Christmas movie, usually Elf, or Home Alone, The Grinch. These are holiday memories with my children that they will remember for their entire lives. I don't make hot chocolate every single night, but once or twice a week it has become a holiday tradition in our house. I think it's much more important to spend the quality time with loved ones and cherish the holidays with your children while they're young than obsess over the weight you MIGHT gain. Twenty years from now what do you think you'll look back and remember? I understand this might come across as strange coming from a fitness and nutrition obsessed bodybuilder competitor. LOL! Hear me out, I will revisit the whole living life to the fullest thing again when we get closer to the New Year. But for right now, I believe the holidays are a time to embrace the loved ones around us, get in touch with our inner child, give unselfishly to others in need, and really experience the magic of Christmas. Go ahead and make fun of me, but I truly do believe Christmas is a magical time. I'm not going to tell you what you should do. I'm going to tell you what I'm going to do. That is all.
I continue my exercise routine. I still do my weights full throttle, blast out cardio and make sure I work up a really good sweat. There will be an abundance of food and goodies everywhere yes, but there will also be some time to get out and get active.
I try not to "over indulge" Let me be very crystal clear on this one. This does not mean only putting a toddler size helping of sweet potatoes on my plate, skipping the gravy and having a sliver of cheesecake. No, no, no!!! All this means is that I enjoy Thanksgiving dinner, usually twice on Thanksgiving day. I have a serving of each dessert that was brought over. I DON'T eat the entire tin of homemade fudge that my sister in law brought over (even though I could & want to). I don't keep all the leftovers at my house and continue to eat that way the entire Thanksgiving weekend.
I make sure to eat the other things my body needs. For example, I make sure I'm getting enough protein, and I still start my day off with my green smoothie of fruits and veggies.
So, lets say Jan 1, 2015 you get on the scale and you did gain a few pounds. Don't sweat it…….or do??? LOL! (that was another joke) If you made some wonderful memories with family and friends, took a trip out of town and did something to help others then it was all worth it, right? You are more than that little bit of weight you gained. You mean so much more to all the people around you for you to avoid holiday parties out of fear of gaining weight.
To close, I hope everyone has a Happy Thanksgiving! I am thankful for too many things to list (this post is already so long). Let me just say I love my life!
Stay crazy, healthy and happy!
Leanna
Side note: The St. Judes Jingle Bell 5k is December 15th this year. I plan on running in this one and if anyone else would like to join me, it's a great way to keep in shape during the holidays and it really is fun! Proceeds go to St. Judes Childrens Ranch.