WARNING! PROCEED WITH CAUTION!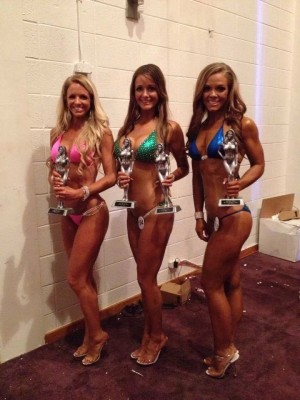 Here is a picture of me with a couple of fellow competitors from the Lackland Classic in 2014. One of the best things about competing have been the great friends I've made.
1.) Why do you stand so weird?
First of all, we pose. It's all in the presentation. Posing might be THE most important aspect of your stage presence. Good posing can cover flaws and turn a less conditioned physique into an AMAZING one. You pose in a way that is most flattering to your body. Each division has standard poses that every competitor is expected to show. I compete in the "bikini" division. For women, the divisions are bikini, figure, physique, fitness, and women's bodybuilding. Bikini division is lean muscle tone and very feminine. For our front pose we stand with our feet slightly wider than shoulder width apart, shoulders back, and hips twisted to make our waist look smaller. This looks much better than this.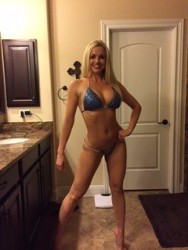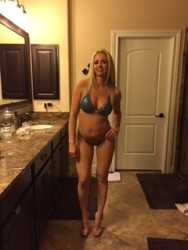 We do our "model walk" onto the stage and do our front pose, then a back pose. Generally speaking, in bodybuilding nice glute/hamstring work is considered the most difficult for women to achieve, which is why our back pose is pretty important. Here is a picture of my back pose. Just FYI, this is the ONLY time I have EVER shared a picture of my back pose. Scandalous! I KNOW!! Just in case you were interested here is a link to the NPC rules.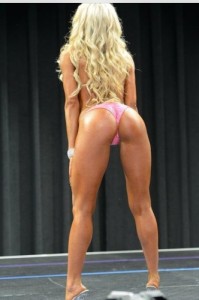 2.) Why do you guys make your skin orange and shiney?
Again, it's all about showing off muscle tone. I used to wonder the same things myself. The darker your skin is the more muscle definition you have, then add a gloss to it and muscles are even more defined. We wear a spray-on tan that will wash off with good ol soap and water. Within a couple days our skin is back to looking exactly as it did before the competition.
3.) Why do you eat such depressing meals?
Excellent question! We try to achieve what everyone wants…to burn as much fat as possible while still maintaining muscle. There are so many theories behind the nutritional approach with bodybuilders. Most bodybuilders view food as fuel for the aesthetics ONLY. Let me sum it up by saying, it ain't easy getting lean. It's not always pretty either. You could talk to 10 different bodybuilders, amateur or professional, and they would give you 10 different opinions about nutrition. Many bodybuilders like to think of themselves as "nutrition experts"
Honestly, I think most bodybuilders giving nutrition advice is the equivalent to someone in gamblers anonymous giving out money management advice. Seriously, some of us belong in nutrition jail for the crimes we've committed. But you live and you learn. I've been on both ends of the spectrum. However, I'd like to think I'm a pretty reasonable and intelligent person and I sought help from a friend that is nutrition certified and has helped me tremendously. No! I do NOT eat chicken & broccoli six times a day. That is absolute madness to me. However, I do pack my meals and take them with me if necessary. I do try hit my macros by eating mostly whole foods.
4.) Why are you all so naked on stage?
Ok, technically we aren't NAKED. But this one should be a no brainier. It's kinda hard to show your muscle tone and leanness fully clothed. I've heard from the judges more than once "we can't judge what we can't see".
5.) Do you win any money for competing?
Um, no. Quite the opposite. We pay an entry fee for every competition we enter. At the NPC amateur level you win a trophy, medal, or even a SWORD (I really want one of those BTW) if you place in the top 5, but no money. Once an IFBB pro, top placings do win some money, but from what I understand it is NOT nearly enough to equal an annual salary. Here's my muscle lady trophy, love her!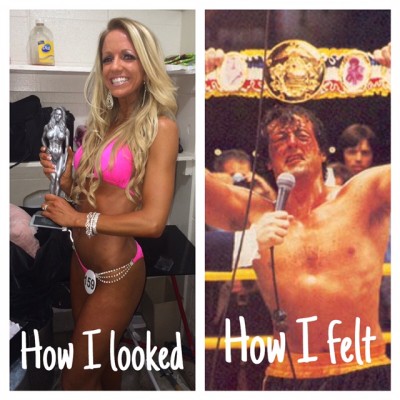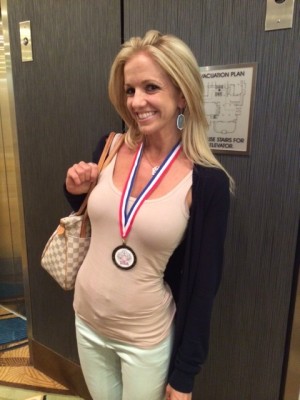 And here's me wearing my medal I got for competing at Nationals in New Jersey last July. It's sort of the equivalent to a blue participation ribbon you might get at the track meet…but I love this medal so much!
6.) Why do you guys take so many body selfies and post them on social media?
Another excellent question! Ahh, the misunderstood selfie. Let me start out by saying that anyone that is trying to establish themselves in the fitness industry completely opens themselves up to judgment from everyone on their physical appearance. You are expected to maintain six pack abs year round or else you lose all credibility in regards to anything fitness related. I used to be terrified to post any progress pictures of myself for fear of judgment, especially since I'm a mom. But I've gotten over it. Just so you know, as for myself, I do not find others selfies/progress pics offensive. Of course, we all know someone who posts WAYYYYYY too many selfies. In one of my classes at school when discussing permanent behavior change, people were much more motivated to stick with a weight loss or exercise plan if they had made progress and someone noticed. The social network theory is an actual theory that clearly shows the benefits of supportive networks on health status. That may be what someone is doing. Just trying to get a high-five to keep them on track with their goals. I know this may be a very difficult concept for some to understand but some people are NOT posting a selfie just to annoy and offend only you!!! But for those of us that do keep it occasional, don't be a selfie hater! I'm over here wondering why you don't post them? Do it! I'll go "like" your pictures. Let people cheer you on. Sure, some people may roll their eyes, or God forbid, "unfriend" you but who cares!!! For every grump that gets offended by your progress picture there's probably 5 others that are inspired by you and admire you. #bodybuilding #girlswholift #npcbikiniprep
Think.Do.Be.crazy, healthy and happy
Leanna JB