So here is the story of me as a "too fat" bikini competitor. This is a true story. I've been very reluctant to share this story out of fear. The fear that anyone that read it would think to themselves "oh boo hoo, lets all cry for the bikini competitor"(inset sarcasm here). But I feel like the one thing that sets me apart from the rest is my brutal honesty. I am not afraid to be who I truly am and wear my heart on my sleeve. It can get pretty dramatic and messy at times… but here it is.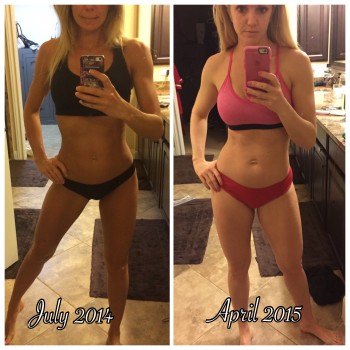 Before I get to the good part you all want to read about how I gained too much weight by eating too much and then wasn't losing the weight . I think it's pertinent that I give you a little back story first. It was July 4, 2014 in Teaneck NJ. I was about to go to prejudging at Team Universe. This was a National show. What that means is that this is a show that you must qualify for in order to compete. You have to have placed top 5 in the open category in a Nationally qualifying show. Competitors come from allover the country to compete at a National show in hopes to earn their IFBB Pro status. To say I was an underdog would be an understatement. I had only competed a few times and my placing was a 5th place that had earned my spot at Team U. At the time I was 32, had had two children and knew nothing about weight lifting or bodybuilding until I was 30 years old. I was competing with women that most were probably a decade younger than me. Just moments before stepping on stage the magnitude of the moment hit me like a ton of bricks. This is what I had worked for and sacrificed for and it was all coming down to this one moment. I didn't' expect to earn a pro card, I just wanted to make myself and my family proud. I just wanted to "go the distance". I wanted to be a contender. I wanted the one thing I've wanted from day 1…a little mother lovin' RESPECT!!! I don't think there is even a way to articulate how incredibly hard I worked the months prior to getting to Nationals. The blood, sweat and tears, not necessarily in that order, but still. All I could think about was the sacrifices that my family had made for me. My husband was so supportive of me and my dream. I worked my ass off to get lean enough to be a contender and did it! I walked out on that stage lean as hell, did my little salute to the judges and nailed it! I was so proud of myself. I was the second number called out in the second round. I heard #324 and it almost took my breath away. I was so flattered that the judges liked the blond with skinny legs from Texas. This picture is probably one of my most favorite photos of myself of all time.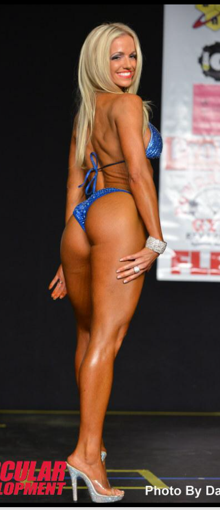 After competing at nationals I came home to "bulk" in order to put on some muscle. Remember how I'm always saying that I'm not all that muscular. So, this "bulk" really only put on fat…a lot of fat…and pretty much zero muscle. In Jan of this year I began "cutting" for my competition season. When a competitor refers to cutting it usually consists of cutting calories down and adding in cardio. I had a LOT of fat to shed in order to get even close to lean as I was at Nationals. In January I didn't cut enough and put on muscle with no fat loss. Then in February I lost but my loss was half muscle. In the month of March I GAINED weight! Yes, you read that right, I gained weight, and yes it was all fat, not muscle. That took a major toll on me. The next month I lost but it was mostly all muscle loss. By this time I was 4 months into what was suppose to be my "prep" and had really accomplished nothing I had set out to do. I know that some may look at me and think this is hardly anything to get upset about. But I'm not just anyone. I'm a competitor, this is suppose to be what I do, what I know. I worked so hard for that leanness. I earned it through my blood sweat and tears, how could I have let it slip away so easily? At this point, the goal of earning a Pro card was almost a laughable joke, let alone even stepping on a competition stage just to compete again. I pulled out of the two competitions that I had planned on competing in. I wasn't sure when I would be lean enough to compete.
Soooooooo, this is what Leanna's negative self talk sounds like…"Who the F*%& do you think you are? You're hot, but you ain't THAT hot! Who are you to give out "weight loss" advice to people? You can't even lose 4lb in an entire month! No one is going to take your advice seriously when they hear about you not being able to lose weight . You're just too old to be doing this and competing with women so much younger than you. You'll never look that good. You might as well quit. What exactly are you trying to prove or be anyway? You're a mom of two kids, no one wants to see a mom in a bikini in a competition. That's weird." Pretty awful, huh? I've dealt with negativity from other people but no one has ever been as ugly to me as I have been to myself. These were some of my thoughts I had on my "dark days" as I like to call them. We all have them, and anyone claiming that they've never had a moment of weakness is a LIAR! The only difference is in how we handle those dark moments. I took a long hard look at what I wanted to accomplish and then asked myself what I truly thought I was capable of doing. Then I reminded myself that I am Leanna Jensen, that's who the F&*$ I am! I think I can do pretty much anything. This might sound a bit arrogant to some. But trust me, you aren't doing yourself or anyone else any favors by wallowing in your own self loathing. Don't get me wrong, at times I've felt like I 'd be better suited wearing a straight jacket rather than a sparkly bikini.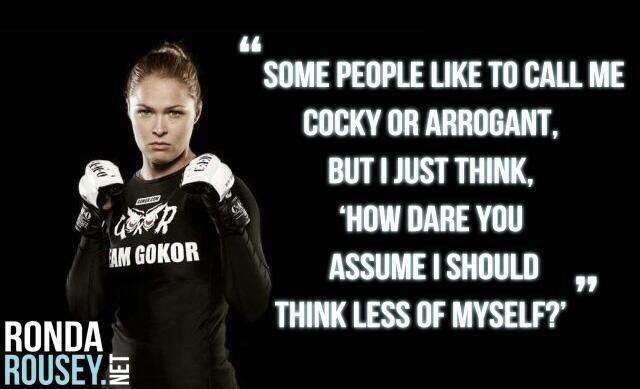 But I've decided to keep going. I would rather crash and burn and have it take twice as long to accomplish my goals and my dreams doing things MY way than to win it all with someone else calling the shots. I'm not a fast learner. I mess things up, screw it up, and have to start all over. But I don't quit. I've accepted that just when I think I've given all I've got the success and goals I have for my life are always going to keep telling me gimme, gimme, gimme MORE! I used to be very self conscious about my obsessive behavior and what some might call "crazy" but I've decided to embrace my crazy. Steve Jobs said it best when he said that the people that are crazy enough to think they can change the world are the ones that do. Right now I am approx 7 lbs away from being lean enough (by my own standards, not someone else's).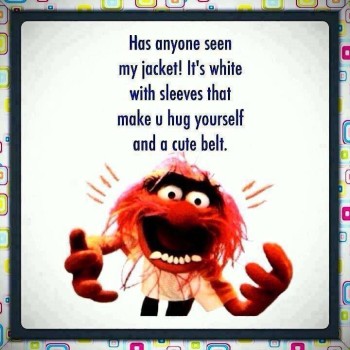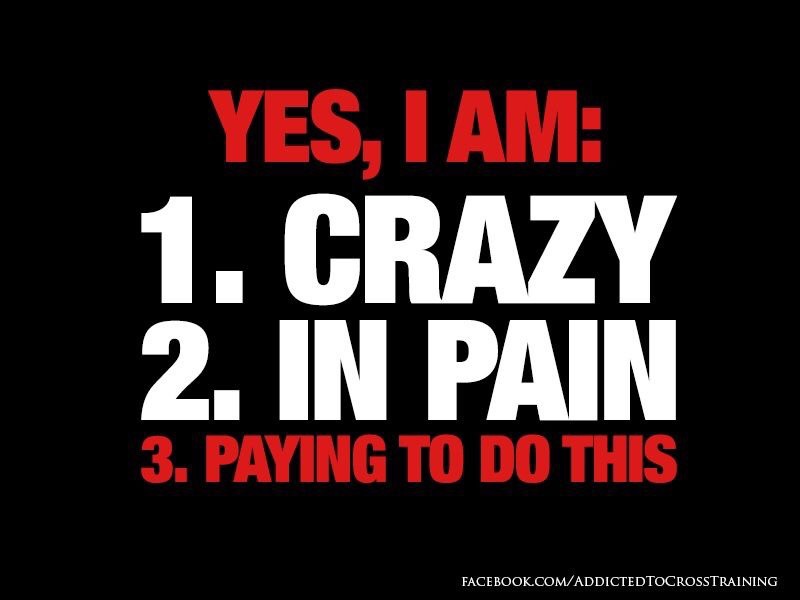 I didn't write this blog for sympathy or attention or "likes". I know this "problem" of mine is really not all that big of a deal. I simply wrote it for the person that was trying to lose weight or see a change in their body, was doing everything right but just wasn't' seeing progress. Maybe the scale was torturing you every morning as you stepped on it hoping to see the number go down, but it didn't. Maybe you slipped on your jeans and as you pulled them up your legs you were hoping and praying they would be just a little looser. I wrote this for that person that starts to make changes but stops because they start thinking about how nuts everyone must think they are to be pursuing that dream. I just wanted to let that person know that you're not alone. I've been there. I get up every morning at 5 or 5:30 to get to working on my dream. I've had to hop off my treadmill to cry into my sweat towel before. I have this dream and this goal in my mind that I want so badly. I'll stop at nothing. If I do get taken off course I want it to be for something that matters. Not because of stupid self doubt. With all of the negativity people face anytime they try to chase I dream I just want to be a beacon of hope for them. I like the thought of my gaining too much weight and not being able to lose it might somehow help someone else.
Feel free to like, share or comments, and as always, don't be shy to message me with questions or comments. I love hearing from people!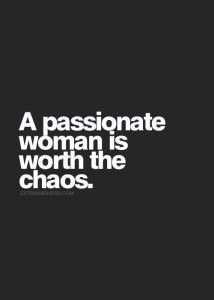 I'm crazy, healthy and happy 😉
Leanna JB