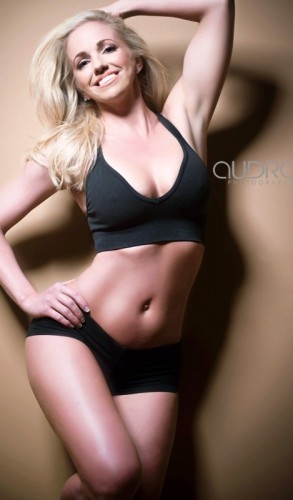 I've been told that in order to establish myself as a brand in the fitness industry I need to find my "niche". I've also been told that my story is pretty unique considering I am a mom. A mom of two is pretty rare in the competition world, but I am no different than any of you moms reading this blog. It still takes me almost 2 hours to get my daughter to bed some nights. We have pizza and movie night every other Friday night where we lay on our couch eating pizza and watching a movie together…that's why we call it pizza and movie night. It's an original name, I know. To be honest, I have a lot more experience at the whole mom thing than I do at the working out thing. I have been a mom for over 12 years now but have only worked out and eaten better for approximately 3 years. Giving birth to my two children is what I am most proud of more than anything else I have done in my entire life. I remember the first thoughts that ran through my mind the moment I laid eyes on them. With my son, I was only 21 years old and when the doctor showed him to me, he was crying so loud and I thought to myself "wow! he really works, I did that. That's amazing!" Yep, that's what I thought. With my daughter when I first saw her I noticed her hands and thought "she has my hands". She does, she has very long, thin fingers, just like me. Here's a picture of our hands. My son picked out this picture of us two. He was about 18 months old.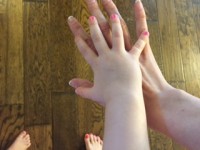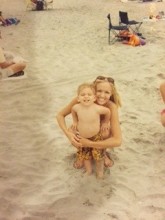 When your children are born, you love them. You don't have to try, or convince yourself, you just love them. More than you ever even thought it was possible to love another human being. Loving them is the easy part. It's getting back to you and finding you again that's the hard part. After my son was born I remember holding up a pair of my jeans from the Gap and wondering to myself how ANYONE, let alone ME, could wear such tiny things. What types of people did they make these for? Shortly after my daughter was born I turned 29. I looked at myself in the mirror and thought "so that's it, all my pretty years are gone? Now I'm just a mom? Will I ever feel pretty again?"
Everyone of us is here because one woman sacrificed her body to bring us into the world. But the sacrificing only begins when they are born. As a mom you sacrifice everyday. Even if you adopted your children, or are a step parent you understand the sacrifice. You see, I think most moms try, and try very hard actually. But as all of you probably already know, anytime a mom tries to do something just for herself she's over run with guilt. You know that mom guilt you feel almost daily. I'm not going to ask you "what's your excuse?" I think that's kinda rude. Our society has a strict code of conduct for moms. As a mom you're no longer allowed to be a sexual being anymore, but you're expected to look nice, NOT frumpy. Do this, don't do that. Put your children first. No, no, put your husband first. Get a hobby, don't be a bore. But don't spend too much time on yourself, that's selfish. Don't be a nag, but make sure your family respects you.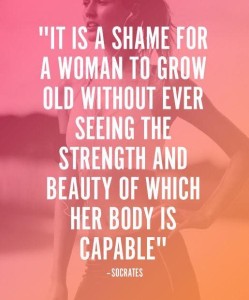 As a mom you've probably had some of those same thoughts as I did. "what's left for me, just me?" From one mom to another I just want to encourage you. To tell you you're not selfish for wanting to feel beautiful again. You aren't vain. The way I see it, you are a whole complete person, apart from your spouse, apart from your children. You are allowed to have your own goals, your own dreams, and yes, YOU CAN DO IT!
Here's where my inner Tony Robbins comes out…
There is a story behind the picture of me at the top. Going back to wanting to feel beautiful again after having my children. My photographer texted this picture to me on a day that I was not feeling very good about myself, my goals, the progress I was making. But I saw this photo and in an instant I realized everything had changed. I reached that goal. I felt beautiful again, before the photo yes, but this picture was the evidence. You see, I had envisioned this photo in my mind a long, long time ago. I wanted to look better than before my kids, I wanted to look confident. I wanted to look happy. It wasn't about vanity. I wanted my inner strength to be reflected on the outside. No, this isn't the Pro card I dream of, and you don't see me in a magazine. But this accomplishment, the way I looked, the way I felt, NO ONE could take that away from me.  That was all mine. I worked hard for it. I earned it. It all started with my thoughts. I thought about it and held it in my mind for years. Think.Do.Be it. That's how it worked for me. Your mind is much more powerful than you think. "What the mind believes the body will follow."
But this isn't just meant for me. What vision do you have for yourself? I'm talking that big, audacious dream you have. Please don't think I'm only talking about weight loss. Whatever dream you have, do not allow others negativity, judgment, rules and stigmas on mothers or just women in general deter you from it. I'm willing to bet that those dreams and goals you hold in your mind are only to improve yourself and make you a happier, healthier person. Be as stubborn and sassy as me when it comes to those dreams. Go after it! Never lose that vision locked safe in your head. Keep doing until you become it. You will encounter set backs and challenges. Like me, you'll have your "dark days", you'll have days where you feel like nothing is changing, nothing is moving fast enough. Just remember that one day you'll look back and realize EVERYTHING has changed.
Since this blog was written in the spirit of Mother's Day it just wouldn't be right without me showing some respect to the woman who sacrificed for me, gave me my smile, my sense of humor and my two sisters (my lifelong best friends).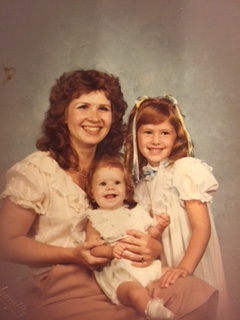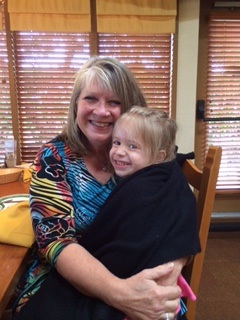 #happymothersday #motivation
Happy Mother's Day to all the moms!
Think.Do.Be crazy, healthy and happy 😉
LeannaJB