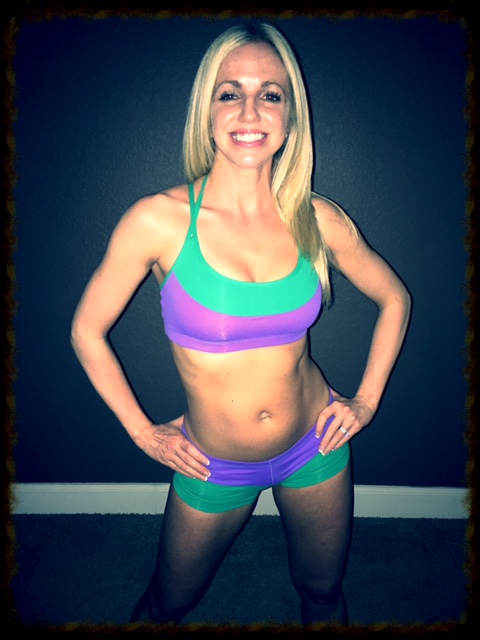 A new friend that I work out with at Texas State asked me to give her a full body workout to do on the weeks where she was pressed for time. Sooooo…since I did this one for her, I thought it would be nice to share with everyone else also.
10 push-ups
20 pop squats
1 min power cleans w/30lb barbell
1 min plank
30 lunges holding 15lb dumbbells
1 min squat hold holding 30lb dumbbell
50 mountain climbers
This series completes one rotation and should take approximately 8 minutes to complete. Rest for approximately 1 minute between rounds. Repeat 4 more times for a total of 5 rounds. The entire workout should take less than 1 hour. You can also check out my Youtube channel for video examples on how to do some of these exercises.
No blog post is complete without me throwing in a little motivation. Last week at the Rec I was at the end of my workout and struggling to keep good form during my last exercises. I was approached by a young man. He told me that he saw me struggling, but that what I was doing looked tough and I was doing what most people won't even attempt because they think they can't. I thanked him for the encouragement and finished my workout. Every workout, I want to really push myself out of my comfort zone. I want to keep going even when I feel physical exhaustion set in, and my legs are trembling uncontrollably. Because in that moment, I know that I've given my 100% and that's one of the best parts of my day. When you do this workout you might question your ability to complete all the rounds with full intensity. I want to encourage you to really push yourself beyond your limits – to prove to yourself that your body is capable of doing more than you even realize. I've read that pain, fear and sadness are all fictitious states that can be controlled by our minds. Keep going and ignore them. Remember that your mind will always fail you before your body does. Power through those thoughts…finish strong! Your body will reward you in ways you never even imagined.
Crazy, healthy & happy!
Leanna