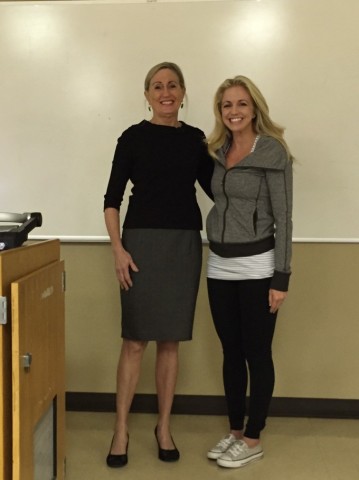 One of my goals is to always be someone that everyone can relate to. However, I understand that not everyone gets a 33 year old mom/student/bikini competitor. I feel like most people would look at me and say, "well, you compete so that's why you lift weights. I just don't feel comfortable doing that." Well, ladies I'm here to show you a woman that does. I am DETERMINED to, at the very least, help you to get over your fear of weights and being around the guys in the weight room. If it's just not for you, then that's ok. Just don't NOT do it because you're afraid.
That's myself and my professor, Dawn Robarts. She teaches my Drug Prevention course, she also teaches Human Sexuality and Consumer Health. She has taught at Texas State University for 37 years. I asked her to be featured in this blog because of her obvious healthy lifestyle. Professor Robarts works out at the Texas State Rec Center just like the rest of us. She lifts weights around the same students that she teaches in class. With her permission I even got a shot of her in action working out one day. Roughly three years ago she took up lifting weights because she said she noticed her arms getting a little droopy. She laughed it off saying that "thank God health is tied to vanity" because she says it's her vanity that got her into lifting weights. I find that amusing since she is not someone I would consider "vain". There is such a negative connotation that goes along with that word. Professor Robarts exudes more confidence and happiness with herself than most. She displays that by her friendliness and openness with everyone she comes in contact with. Always smiling and saying "hi" to everyone.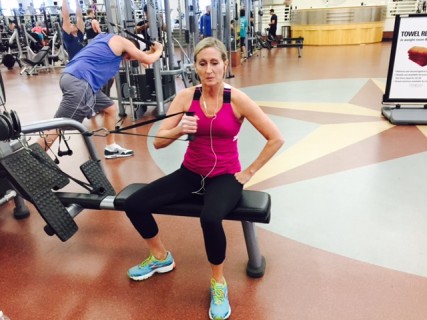 She says she's trying to defy the stigma that society places upon women. She & I share that in common. I feel like, as hard as I try not to, I can't help but have a chip on my shoulder about what a 33 year old mom "should" look like. She meets people and they are usually shocked when she tells them that she is 61. She says "well, what exactly is a 61 year old woman suppose to look like?" I think this just goes to show us that at every stage of our lives society will put pressure on us to look a certain way or fit into a certain box. Be this way, dress this way, ACT this way.
Professor Robarts weight trains, usually 3 days per week and runs for 4-5 miles 3 times a week. She has two dogs and also enjoys reading, gardening, and of course, spending time with family. It also seems like she really, really enjoys teaching our class. Now, I'm not saying that lifting weights in the weight room is the magic answer to totally turning your life around, and it will make you have more friends, be famous on social media, and even make you a better dancer. Not what I'm saying… Just wanted to show you a woman that I admire, really seems to have it together……and also happens to lift weights too, like me!
As always, crazy, healthy & happy 🙂
Leanna