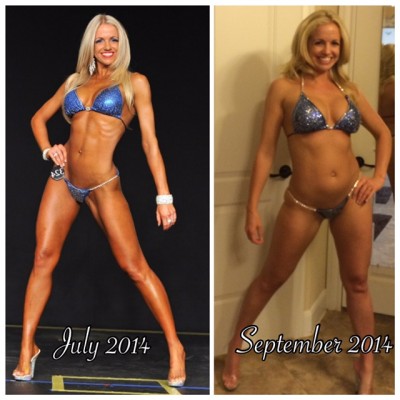 This is the story of the very hungry bodybuilder. She worked and worked so hard to compete with all the twenty-somethings at Nationals that when she was done, she ate and ate and ate to her little heart's content. Check out the dates on those photos. There's only about two months difference between the two and approximately 15 pounds difference. Putting on that extra fat after Nationals has made losing it since then VERY difficult.
Right now I am trying to lose 1 pound per week. That should be fairly easy for someone like me, right? WRONG! Same laws of physics apply to me just like everyone else. For 4 weeks I dieted, tracked all my food, worked out everyday…then gained a pound. WTF??? I was stunned. So, I changed things up over the month of February but lost some of my muscle mass. Still not what I was trying to do. I miss the mark, I screw things up. Obviously, I've over indulged. I looked at the picture of me from September and shamed myself because I looked at the additional weight gain as "being bad", something I should feel ashamed of, like a character flaw.
Has anyone else reading this felt poorly about themselves for their own weight gain? Have you looked at pictures of yourself and shamed yourself for not working out, or for eating cupcakes? I'll bet you have. Has anyone reading this given up on their weight loss goal? Have you felt like your progress just wasn't going fast enough that you should just give up? My guess is YES!
So why do we give up? Why do we "throw in the towel" or "fall of the wagon" of our weight loss goals? Or any goal for that matter? Are we just impatient? You don't want to wait weeks, or months to lose weight. That's just so long. You don't want to have to wait months or years to start living your dreams. You wanted it yesterday! Because if you had it yesterday that would mean that today you'd already be able to move on with your life. I get it. If you know me personally you know that by nature I am NOT a patient person. But I am a very reasonable person and usually when someone asks me to be patient I have to take a moment of self reflection and I figuratively go put myself in the corner to think about my behavior. Bodybuilding is a sport that requires patience. Weight loss requires patience. You MUST have faith. Faith in yourself, faith in the process, faith in science.
You obviously haven't lost all faith because otherwise you wouldn't be reading this. This weekend I took my kids to see "Cinderella". It was an AMAZING movie! I absolutely loved it. The major theme of the movie was to "have courage and be kind". I love this sentiment.
Here's your Leanna size dose of motivation. I'm in YOUR corner, love! I want to motivate you! We ALL lose our way sometimes, we all fall short. Be kind and FORGIVE yourself. What's done is done so stop beating yourself up for it, even if it's been YEARS of mistreating your body. Don't become so overwhelmed by the amount of time it will take you to reach a goal that you give up. It's not over till YOU say it's over!
Ladies and gentlemen, this is what forgiving yourself, and patience looks like.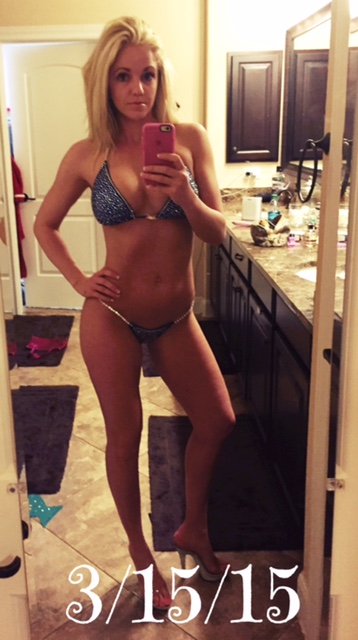 No, I am not where I need to be yet. But this is progress and I'll take it. If I can learn patience, ANYONE can.
Think.Do.Be. Patient. Crazy, healthy and happy.
Leanna JB