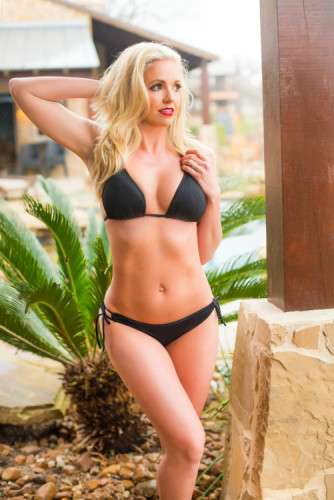 No animals were harmed in the taking of this photo.
In our society we have these unwritten laws about who gets to wear a bikini and who shouldn't. I've heard them discussed over different groups of women all my life. In some circles you are only one step down from a homewrecker if you wear a bikini. In other groups you can get away with wearing a bikini but only if you are a certain body type, age, and weight…then I guess it's ok. God forbid you be a mom and still try to wear a bikini! You really should "dress modestly". Yeah, I throw up a little bit in my mouth every time I hear that phrase. But that rant is for another time and another blog post.
I think everyone woman has a right to wear a bikini. Mom or not, no matter her body type, age or weight. If your aspiration is to achieve that "bikini body" that you have in mind for yourself, you should only aspire to look like the fittest, most beautiful version of YOU possible. You DO NOT have to be perfect to wear a bikini! If I waited till I was perfect to wear a bikini or compete, I NEVER would. I'll let you all in on some of my flaws that you may not see in my photos. I have a bump in my nose, my smile is crooked. My second toe is longer than my first (on both feet, I'm the only one in my family like that) and I'm pretty sure I was born with cellulite. No matter how lean I get I still have cellulite on my thighs. I have terrible, ultra sensitive skin. It will break out for anything. But do I let that stop me from stepping out on a stage to compete? Nope! Bodybuilding has taught me so much, but most of all is that EVERY body is flawed in some way. You have to embrace who you are and the way you were made.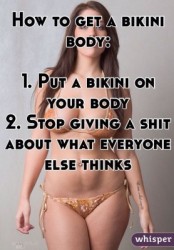 So, here's a little bit of my philosophy…I just want to inspire people. I want them to look at me and say to themselves, "if she can do that, then I can too." In fact, I hope one day you take it even farther than I have. I hope your success story is better than mine. I don't share my photos to intimidate or brag. Yes, I am proud of myself and my body. My outward appearance is only a reflection of my confidence and the patience, YEARS of hard work, and dedication that I've put into it. I want to show other women out there that you can be a good mom and wear a bikini at the same time. I want EVERY woman to believe she can get her body into shape. I don't care how overweight you are, have become or have always been. You are not bound by that. If you believe you can, you will. Bikinis aren't meant for only certain people. A "fit", healthy body wasn't meant for only those with good genetics, anymore than a certain level of education is only meant for the academically gifted. #motivation #bikinirules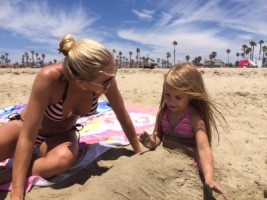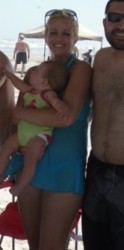 Side note: Picture on the left was taken this summer at Huntington Beach, one of my most favorite places in the whole entire world, the right one was taken in 2011 in Port Aransas and I was still wearing a maternity swimsuit when my daughter was a baby.
Think.Do.Be.crazy, healthy and happy 😉
LeannaJB