I am a mother of two, Nationally qualified NPC bikini competitor, certified personal trainer, and a published fitness model and writer. I am on a mission to help and serve others by sharing my knowledge of all things health and fitness.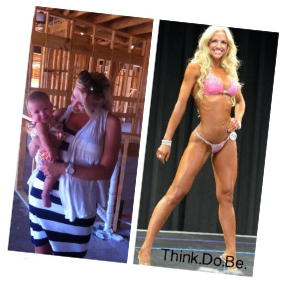 Before I made my transformation I used to drink soda by the gallons, I smoked a pack of cigarettes a day and didn't eat anything that didn't come in a paper bag through the window of my car.
I had approximately 30lbs to lose after the birth of my second child in January 2011.
I tried walking & cutting calories. This all left me frustrated with mediocre progress.
I also had a pain in my wrist that was so bad, when I held my daughter, I was afraid I would drop her.
I remembered being told that lifting weights was really good for women too.
So, I decided to set aside my silly fears of becoming "too muscular" and started lifting weights.
Within a week, the pain in wrist was gone, never to return. In the first 30 days of weight training I lost approximately 7 lbs and did absolutely zero cardio! I guess you could say weight training was my "gateway" drug into fitness.
November of 2012 I entered my first bikini competition.
When I first started competing I felt very out of place.  I thought I wasn't muscular enough to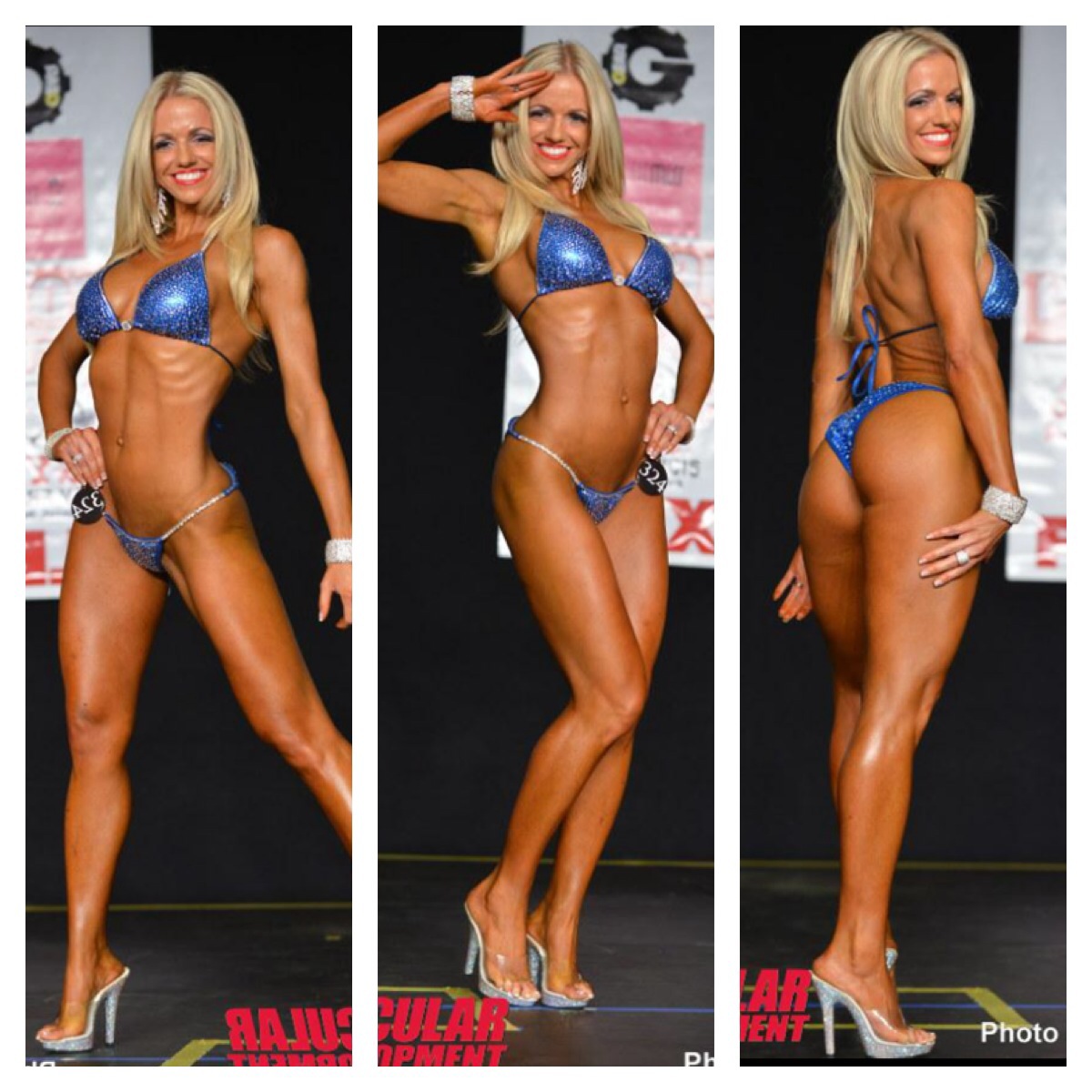 be a bodybuilder.  I had no idea that bodybuilding required so much mental strength.  But I AM a dreamer and I refuse to quit.
I love the challenge that entering a competition puts in front of me.  I love the goal of a deadline and the anticipation of stepping out on stage……
"whatever the mind believes, the body can create."
I have competed in a total of 15 NPC bikini competitions. In July 2014 I competed at Team Universe in New Jersey, (picture above) which was my first National show, and I placed 9th. I am madly and passionately in love with competing.
Of all the great loves in my life, competing is one of them.  It has actually broken my heart many times when I didn't place well, but there will always be highs and lows.

I have a dream to one day earn my IFBB pro card but my ultimate goal is to help others live their best and healthiest life.
Apart from competing, work and family I consider myself a great motivator.  I am an excellent mom, which takes up most of my time.  I love to travel ANYWHERE!  I have a wacky sense of humor, and I try to show in some of my blog posts without sounding too cynical. I LOVE to write!
However, I try to keep my blog posts focused on issues or questions that I had when I started my transformation journey. My hope is that each person that reads this blog finds it helpful, inspiring and sincere. I would encourage anyone reading my blog that has any questions to message me, I am always looking for opportunities to help others.
I am passionate about helping others. I wouldn't have decided on a new career path as this if I didn't believe that every person is capable of living the "fit" life. I believe our bodies are amazing, well-oiled machines capable of doing far more than what we even realize.
I wake up passionate and want to live everyday to the fullest!
At #TeamLJB we stand for…
Self-belief/self love – keeping promises to yourself, valuing your own body and loving the way you were made through all stages of life.
Stepping out of your comfort zone – we believe that being fearless and stepping out of ones own comfort zone is essential to personal growth.
Motivate & Inspire – we want our lives to motivate and inspire others to make a positive change, not only for themselves but also the world around them.
Kindness and encouragement – falling off the proverbial wagon, slip-ups and "life" happens. We choose to meet these challenges with kindness to ourselves and others, followed by encouragement.
Any BODY can be "fit" – living the fit life wasn't meant for a certain type of person. We believe a fit and healthy body can be had by ANYONE!